Sardis the Dead Church
The fifth city in John's letter, Sardis, had a history of hard times when John wrote his Revelation. Nonetheless, by the first century, it had rebuilt itself to become one of the most prosperous cities in the region. It was a few dozen miles south of Thyatira, east of Smyrna, and northeast of Ephesus.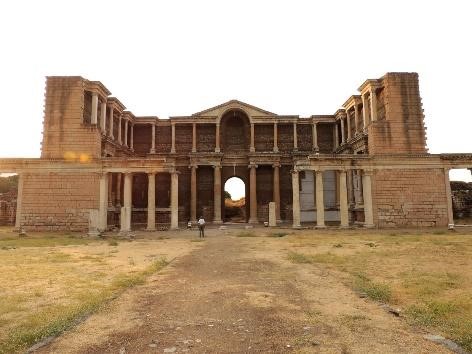 Sardis had a temple to Artemis that had been destroyed in a devastating earthquake several hundred years before Christ, and Alexander the Great had begun to rebuild it. Still, when Christianity entered Sardis, the temple was all but abandoned and was later converted into a church. We will tour a reconstructed public Roman bath and gymnasium complex where the largest ancient Jewish synagogue known outside Palestine is situated. Shops and a stadium surround these sites of worship.  
(Roman gymnasium, Sardis by Anita363 is licensed under CC BY-NC 2.0.)
There was an important Jewish community here from the 5th century BCE. The large synagogue, which may have served a Jewish community of 5,000–10,000, dates from 200–616 CE. Jews were integrated into civic life; many were prominent citizens. The Synagogue forecourt is a peristyle and open to the sky in the center. The urn in the center was a fountain used for ritual cleansing before worship. (Th urn is a replica; the original is in a museum for safekeeping.) You can see the basilica hall of the main sanctuary through the doorway. These shrines at the back of the main chamber presumably housed the arks (cabinets) containing the Torah scrolls.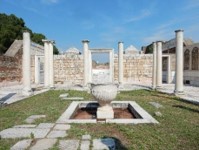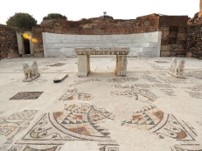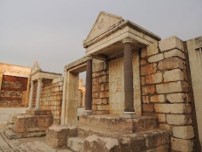 Synagogue pictures by Anita363 is licensed under CC BY-NC 2.0.)
John doesn't have much praise for the church at Sardis. Instead, he opens by telling them that they have a reputation for being alive when they are dead. He implores them to wake up and strengthen what remains, for their work is still unfinished.
(Revelation 2:8-11). "And to the angel of the church in Sardis write, 'These things says He who has the seven Spirits of God and the seven stars: "I know your works, that you have a name that you are alive, but you are dead. 2 Be watchful, and strengthen the things which remain, that are ready to die, for I have not found your works perfect before God. 3 Remember, therefore how you have received and heard; hold fast and repent. Therefore if you will not watch, I will come upon you as a thief, and you will not know what hour I will come upon you. 4 You have a few names even in Sardis who have not defiled their garments; and they shall walk with Me in white, for they are worthy. 5 He who overcomes shall be clothed in white garments, and I will not blot out his name from the Book of Life; but I will confess his name before My Father and before His angels.