Smyrna the Persecuted Church
Smyrna is the second church mentioned in Revelation and Smyrna vied with Ephesus as one of the most important cities in the region. Unlike Ephesus, Smyrna, located about fifty miles north of Ephesus, remains a significant seaport on the Aegean Sea. Today the ancient city of Smyrna is contained within the modern metropolis of Izmir, the third largest city in Turkey and home to more than four million people. (Izmir, Harbour & Port by wattallan594 is licensed under CC BY-NC 2.0.) .) (Izmir, Kemeralti Bazaar by wattallan594 is licensed under CC BYNC 2.0.)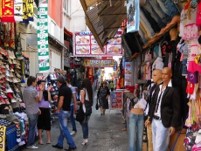 We will visit the archeological site of biblical Smyrna with its Roman Agora. Even in those early days, Smyrna had a bishop, a disciple of John named Polycarp. But early Christians didn't have it any easier in Smyrna than they did in Ephesus. And Sardis is where the well-documented martyrdom of that early church father Polycarp took place.
Frequently in Smyrna, Christian persecution took the form of financial hardship, with Christians losing jobs or having their wealth confiscated. So, John tells them in Revelation to remember the spiritual wealth they have rather than focus on their lack of material wealth. He also warns them that there is persecution coming and tells them not to be afraid of it.
(Revelation 1:11, 2:8-11) NKJ "And to the angel of the church in Smyrna write, 'These things says the First and the Last, who was dead, and came to life: 9 "I know your works, tribulation, and poverty (but you are rich); and I know the blasphemy of those who say they are Jews and are not, but are a synagogue of Satan. 10 Do not fear any of those things which you are about to suffer. Indeed, the devil is about to throw some of you into prison, that you may be tested, and you will have tribulation ten days. Be faithful until death, and I will give you the crown of life.
Today, the ruins of the Smyrna marketplace are nestled within just a few city blocks of Izmir. You can walk the beautiful arches of the marketplace and see the towering columns that would have hemmed in the market. It has been through earthquakes, fires, and war, but still, this site of early Christianity stands. (Izmir, The Agora by wattallan594 is licensed under CC BY-NC 2.0)