Laodicea the Lukewarm Church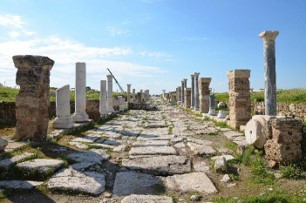 A main street in ancient Laodicea Credit: Carole Raddato/Fickr/Wikipedia/Creative Commons 2.0
The last church John writes to is the church at Laodicea. This city was located on a major highway almost due east of Ephesus in the Lycus River Valley near the Hierapolis hot springs.
Laodicea's location made it a wealthy commercial and banking center specializing in medicine and the black wool trade. John used these trades in his admonishments to the Christians at Laodicea. John tells the church at Laodicea that they are neither hot nor cold and don't know what real wealth is. He encourages them to repent and promises rewards of real wealth to those who do.
13GT457 Laodicea by Michael L Coyer is licensed under CC BY-NC 2.0.
The ancient town was heavily damaged in an earthquake in 600 AD, but you can still walk some of the roads and see the ruins of the historic buildings, including two large theaters and a stadium. Archaeologists have discovered about 20 ancient Christian chapels and churches at the site. The largest took up an entire city block and dates to the beginning of the fourth century.
(Revelation 3:14-22) NKJ version   "And to the angel of the church of the Laodiceans write, 'These things says the Amen, the Faithful and True Witness, the Beginning of the creation of God: 15 "I know your works, that you are neither cold nor hot. I could wish you were cold or hot. 16 So then, because you are lukewarm, and neither [k]cold nor hot, I will vomit you out of My mouth.17 Because you say, 'I am rich, have become wealthy, and have need of nothing'—and do not know that you are wretched, miserable, poor, blind, and naked—18 I counsel you to buy from Me gold refined in the fire, that you may be rich; and white garments, that you may be clothed, that the shame of your nakedness may not be revealed; and anoint your eyes with eye salve, that you may see. 19 As many as I love, I rebuke and chasten.[l] Therefore be [m]zealous and repent.