"Wow, the Turkish culture takes their weddings seriously," I thought as our tour bus drove through Izmir (ancient Smyrna), passing by dozens and dozens of wedding dress stores.
Come to find out, Izmir is a worldwide destination for textiles, clothing designers, and, yes, wedding apparel. The city hosts buyers' fairs for evening gowns, men's apparel and four yearly shoe expos.
Izmir Footwear and Bags Fair-  Number of exhibitors: 250 – Number of visitors: 10,070 from 46 countries: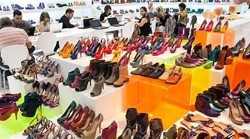 Guess who's the bride.
A bride's trousseau in ancient Rome consisted of a tunic which she wove herself on an out-of-date loom as a sign she had put away childish toys and was capable of taking on the responsibilities of a wife. The primary skill was wool-work and weaving. Her tunic was tied with a belt of pure ewe's wool and fastened with a knot (called a Herculean) that was difficult to undo. The veiling of her head remained a central part of the ceremony.
The Latin verb to marry, "nubere," also means to veil oneself. While standing face-to-face with the groom, the bride's unveiling revealed herself as the expected bride under concealment. ( D'Ambra, E. (2007). Roman women. Cambridge University Press.)