My eyes have been extremely tired lately. I'm using higher-strength glasses at the end of the day, and the eye strain from screen time got me asking a few questions. No, this is not a blog on eye physiology—but in case you're interested—our eyes have two different kinds of muscles: extrinsic muscles that control eye movement and position and intrinsic muscles that control near focusing and how much light enters the eye. And those muscles get a rigorous workout with modern activities.
I just returned from a writer's retreat where the group critiqued each other's work, delved into writing exercises, and read passages from our favorite authors in tiny fonts. We have included one of the most essential writing tasks—long walks—giving our brains, bodies, and spirits a chance to rest and regenerate. It turns out that our eye muscles, tightly focused on iPhones, e-readers, laptops, TV screens, tiny fonts, etc., immediately relax when viewing a more expansive vista.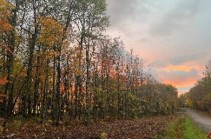 Research has proven what ancient spiritual practices have known for millenniums—time in nature rejuvenates and spurs creativity, peace, and deep thoughts. One of my favorite Bible verses is Psalm 46:10, Be still and know that I am God. Listening to a trickling brook, rustling through fall leaves, and watching our breath on a chilly day contribute to healthier, happier people and give our souls a chance for restoration away from the mundane chores, daily worries, and pervasive busyness that distract us.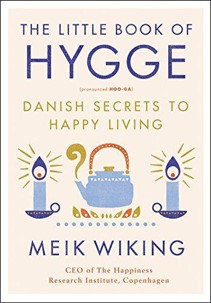 As shorter days approach, opportunities for outdoor renewal decrease. I like the Danish idea of hygge—slowing down and finding comfort with the simple things in life. William Morrow says in The Little Book of Hygge: Danish Secrets to Happy Living, "If you've ever enjoyed reading a book indoors on a rainy Sunday or a cup of hot cocoa on a snow day, you experienced hygge without even knowing it." I don't know if staring at a roaring fireplace or the flickering of a dozen candles is as calming for our eyes as a hike through the woods, but I think anything that gets us to turn off the screens and follow God's directive to be still, is good any time of the year.